OUR COMPANY & PRODUCTS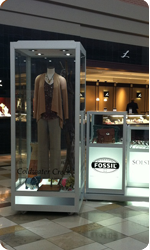 MuseumDisplayCases.CA contains an extensive online catalogue of display showcases, counters, cabinets, retail store fixtures, retail kiosks, and retail carts. For the past thirty years, we have manufactured showcases for a great variety of clients: museums, universities, sports arenas, Fortune 500 companies, retail stores and hospitals.

MuseumDisplayCases.CA offers showcases in any shape, size or colour. In addition, we specialize in custom-made products. Give us a call and our designers will draw up a 3D CAD drawing according to your specifications AT NO EXTRA COST! All of our cases, cabinets, counters, are extremely durable - yet elegant – as we build our showcases using the Aluminum Extrusion System.